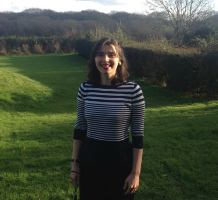 I have recently completed a three month overseas institutional visit in Switzerland collaborating with the genomic privacy group at EPFL's School of Computer and Communication Sciences in Lausanne.
My PhD
My PhD is about assessing and managing the risks of privacy breach with genomic data. The current revolution in genomics and genome sequencing promises to bring discoveries which will have impact in almost every area of our lives and future wellbeing.
However, genomes are very personal and the increasing availability and use of such data raises many valid concerns about privacy risks. Therefore, there is a conflict between the need to keep such personal data secure and the value of advances in medical knowledge obtained by sharing these data widely, and we need a strategy that allows bona fide analysis of genome data and safe sharing of data whilst at the same time being compliant with privacy assurances and best data governance practice.
In order to understand this balance properly and to maintain effective data privacy while supporting medical research, we need tools that accurately analyse and assess disclosure risks with these data, which is the main focus of my research.
Ecole Polytechnique Federal de Lausanne (EPFL)
I visited the EPFL's genomic privacy lab in the end of the second year of my PhD. One of the most significant benefits of visiting this lab, which is considered to be a leading group in this research area, was that it gave me the opportunity to work at another world-leading research centre with a completely different focus to my home university. This enabled me to interact with academics from a broad range of disciplines.
Privacy-Enhancing Technologies (PET)
In particular, one of the main research directions of the group is to develop and implement Privacy-Enhancing Technologies (PET) for both medical tests and personalised medicine methods that use patient's genomic data, whereas our main focus has been the theoretical aspects of the genomic privacy problem, looking at it from the risk assessment perspective and aiming to design a framework for assessing and controlling the disclosure risks of these data.
These approaches complement each other since in order to propose technologies which control and preserve privacy of genomic data, it is critical to understand how privacy could be breached and what the possible attacks are.
Privacy protection
In addition, during this visit, I had the opportunity to attend a graduate-level Privacy Protection course delivered by a preeminent researcher in the field. There is no equivalent course in the UK and participating in this course strengthened my understanding of the wider field in which I am operating.
Working with this group exposed my ideas to a wider audience and gave me the opportunity to present my work to – and receive invaluable feedback from – a key research team. This has improved my professional confidence and also pushed my critical thinking about the objectives of my PhD. Finally, I've built contacts and links with leading international experts in the field whom I could approach for future collaborations. Overall, visiting EPFL has made and will make a great impact on my PhD research and future career.
About the scheme
The Overseas Institutional Visit scheme has now been devolved to the North West Doctoral Training Centre (NWDTC), and competitions are held twice a year.